Louis the 15th. Antiques & Curiosities Aruba
Tanki Leendert 158-G Rococo Plaza Road 4A Aruba N.A. celph. 00297-741-5640
Find the unexpected at Rococo Plaza, where the incredible collection of European Antiques and Curiosities is displayed in more than 20 showrooms of the two buildings recognized by its two unique 17th. Century red copper domes.
Among the unique pieces of Antique Furniture as Armoirs, Buffets, Dining Tables, Coffee Tables , Chairs, Sofa's and Fauteuils, we sell Chandeliers, Paintings , Mirrors, Clocks, Silver, Bronzes, Pewter and Copper pieces, Jewelry, Ivory,Bone, Soapstone,Jade, Cristal, Glass , Imarie, Satsuma, Limonge, China ware, Persian Rugs, Woodcraft etc. etc. really too much to mention.
SE SELL BUBBLE PLASTIC FOR PACKING BY THE METER OF BY THE ROLL
Call Nancy celLph : 741-5640 Notice: NEXT FLEAMARKET :
Fleamarket Scedule 2019 : Sunday : 4 August, 1 September, 6 October, 3 November,1 December . We started a Weekly fleamarket ;Every Saturday from 9am - 2 pm together with the fruit and vegetable market . On fleamarket days the antiqueshops and the outlet (upstairs in building one) are always open from 9-1 with special discounts
Google: and SEE MORE ON MY FACEBOOKPAGE Louis the 15 th. Antiques & Curiosities Aruba
Rococo Plaza Outlet Aruba
Fleamarket Rococo Plaza Tanki Leendert Aruba
Greenline Heavy Equipment Aruba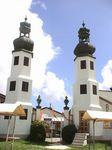 Look out for the landmark "The Rococo Plaza Building"


We do have a lay-away plan, that you are allowed to devide your buy in 12 times with a minimum payment of Afl. 100.-- per month, after paying a downpayment of 20%. However you don't get any discount, but you don't pay intrest.



Antiques & Fleamarket Rococo Plaza : EVERY FIRST SUNDAY OF THE MONTH FLEAMARKET START 9 am . To rent a stand at this market you only pay Afl. 25.-- Make your reservation in time, because stands are limited . For more information feel free to call ph. 741-5640
FLEAMARKET EVERY FIRST SUNDAY OF THE MONTH : To rent a tent or a place to sell your own treasures Afl. 25,-- , If you just need a spot to put your own tent you pay afl. 15.-- or If you just need a spot for putting your tables . Pls. call Nancy on cel.nr 741-5640 for reservations For the Weekly Saturday Market the table price is only Afl. 15.-- per table
Also your wholesaler for Bubble Wrap
Emailaddress : antiques@setarnet.aw
Tanki Leendert 158-G Rococo Plaza , Road 4-A
Aruba N.A. Phone : 00297-741-5640